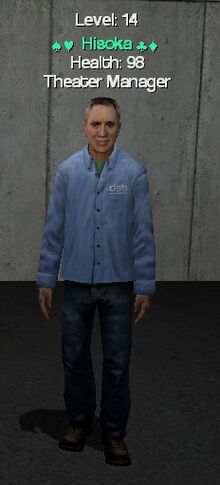 Job Info:
Edit
General purpose in role play:
You may not participate in raids.
You may not kidnap other players.
You may not mug.
You may not steal.
You may not sell/accept stolen items.
You may not carjack.
You may not own a weapon larger than a pistol.
You may not deny players access to the movie theater, however you may put fading doors in the movie theater and charge people up to 5k for entry. 
You may also charge up to 1k for a Video Request. 
You may not play any inappropriate/obscene videos from you-tube or any other site. 
You are expected to keep your videos PG-13.
You may play long videos, however people are allowed to vote skip using /theater.
You are the only one allowed to base in the movie theater, however you may allow other citizen jobs to base with you. 
Facts and trivia:
Edit